Post by Nemanja79 on Mar 2, 2015 0:03:45 GMT
I thought people might be interested in a thread like this, related to all talents across the Europe and world. Lets start from the article from The Football Observatory, published in The Guardian:
Ajax are the most prolific producers of talent as English clubs lag behind
• Football Observatory's statistics show Dutch club leads the way
• Manchester United, Arsenal and Manchester City make the top 100
• Next Generation: 40 of the best young talents in the world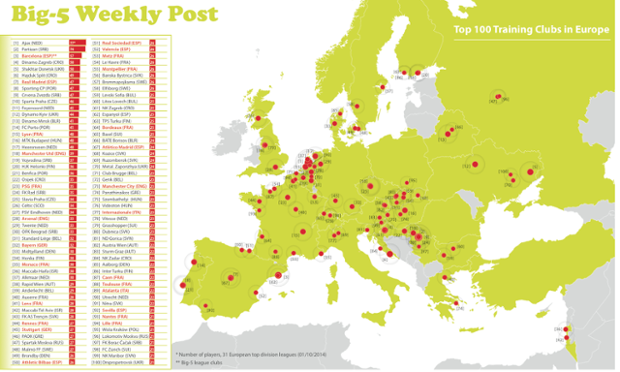 The Football Observatory has found the most prolific producers of young players in Europe remains Ajax. Photograph: Football Observatory
Ed Aarons
ed
_aarons
Thursday 26 February 2015 12.42 GMT Last modified on Thursday 26 February 2015 13.42 GMT
Ever since the days of Johan Cruyff's all-conquering Ajax side of the 1970s, the Dutch club has been known as one of the most successful producers of young talent in the world.
According to new statistics from the International Centre for Sports Studies in Switzerland, who have looked at players who have trained at the same club for at least three seasons between the ages of 15 and 21, that reputation is well deserved.
Seventy-seven players who were trained at Ajax now play in the highest tier of Europe's 31 best leagues, meaning the club top the list of talent providers. Partizan Belgrade of Serbia are second, having trained 74.
Barcelona's famed La Masia academy came in third place with 57, while the remainder of the top five is completed by Dynamo Zagreb of Croatia and Ukraine's Shakhtar Donetsk.
The top 100 list does not make pretty reading for English clubs, however. Manchester United are the Premier League's highest representatives in 18th place having trained 39 players who are currently active, with Arsenal 28th with 33 players and Manchester City in 73rd place with 23.
Those numbers are affected by the fact that the list does not include players who have gone on to have careers lower down the football pyramid. But the figures nonetheless show the limited opportunities being afforded to young English players at the highest level.
Chelsea, Tottenham, Aston Villa, Liverpool, Newcastle and Southampton do appear in the top 200 but there are a number of Premier League clubs who have produced fewer than five active players, including Burnley with just two and QPR with four.
France has the most clubs represented in the top 100, with 15 from Ligue 1 on the list. Spain and Holland are next with eight apiece, followed by Serbia and Belgium on six each.
But there is one crumb of comfort for young English players: current World Cup holders Germany also trailed way down the list, with only Bayern Munich and Stuttgart making the top 100.
www.theguardian.com/football/2015/feb/26/ajax-most-prolific-producers-young-players-english-clubs